WooCommerce has proved itself over the past decade as a major e-commerce platform.
Combined with the powerful WordPress functionalities and the abundance of plugins available, it is reasonable for some shop owners to switch to WooCommerce.
Migrating stores over platforms is a pain in the ass and even more when it comes to moving the users' accounts with passwords.
So for one of my stores (running on Presta since forever), I decided to start a second store from scratch, keeping only the products (a total of 646) and the categories.
And I wanted to do this fast.
I searched the web for a FREE solution and I found this plugin.
With the free version, you can migrate:
Product images
Product Descriptions
Prices
Categories
Tags
and CMS pages
For me, that was more than enough to start my WooCommerce version of the shop.
What I noticed afterward was that the plugin puts all products that were disabled or out of stock in the PrestaShop dashboard to drafts which were very handy.
What will you need to migrate products from PrestaShop to WooCommerce?
First, you will need to install WooCommerce and the FG PrestaShop to WooCommerce plugin.
After that, you will see an "import" link in the plugin's box.
This will lead you to the plugin's settings page, where you will need to fill in your PrestaShop database information.
Store URL
Database Name
Database User and password
The rest should be left as default in most cases.
Note:
In case your Presta store is on a different server you have to export the database (from phpMyAdmin), then create a new database and user on the server where your WordPress website is hosted, and import the previously downloaded .sql file to the new database. Then fill the details of it in the plugin's settings page.
If everything is set properly you should get a green light – Connection Successful!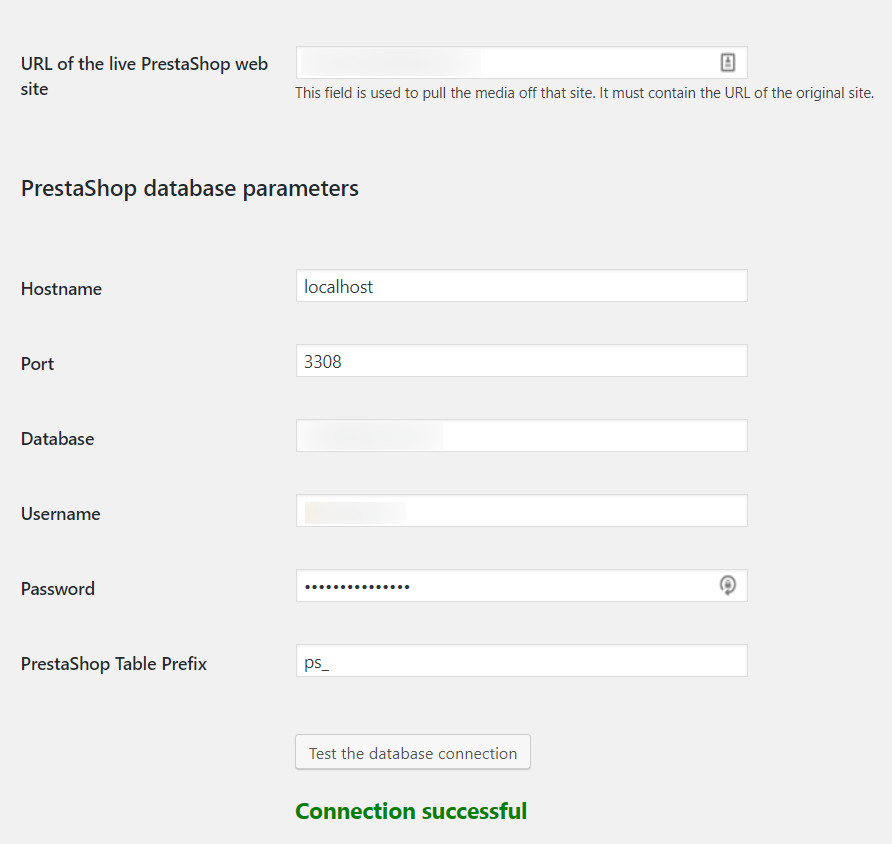 Now you are ready to start the importing process. Brace yourself because it takes a while, and by while I mean forever.
[alert-note]What I found was that the importing gets stuck after 2-3 minutes of working. The best thing you can do is refresh the page and click the "Start/Resume the import" button. Then repeat the process until you reach 100%[/alert-note]
Also Note: The Import progress goes beyond 100%, so wait for it to finish, don't close it when it reaches 100%!
Hope this plugin works for you as it worked for me. With its help, I managed to get the store from nothing to full catalog with prices featured images, and descriptions.
You can download the plugin here.
Want to move only specific products PrestaShop to WooCommerce?
There are cases when you want to copy some products from one Presta Shop store to another WooCommerce store, but not all of them.
Let's say you have 20 products set in PrestaShop that have to be also uploaded to your other Woo store.
For this purpose, you can use the free plugin WP All Import and the add-on.
Disclosure: Some of the links on the page may contain a ref code (affiliate links), that tells the other side that we have sent you. If you liked what we suggest and you make a purchase, we may receive a commission.