WooCommerce themes tend to be on the slower side compared to dedicated shopping CMSs like PrestaShop, Magento, OpenCart, etc.
WooCommerce themes tend to go on the slower side compared to dedicated shopping CMSs like PrestaShop, Magento, OpenCart, etc.
Feature-rich Elementor themes look great, but if you look for speed, you'll either need the Fastest WordPress hosting in the world or a really well-built Woo theme.
Some of these themes have a retro-looking appearance, lack dynamic elements, and may have poor product pages. A prime example of a fast theme that lacks visual appeal is Storefront (apologies to the developers)."
How Page Speed Affects Your E-Commerce Store
A slow-loading website can lead to high bounce rates, low conversions, and dissatisfied customers.
Users expect websites to load quickly, and if they don't, they are likely to abandon their shopping carts and seek faster alternatives.
Fast WooCommerce themes typically have a lightweight and minimalist design, reducing the amount of code that needs to be processed by the browser.
These themes often come with built-in performance optimization features such as lazy loading of images, CSS and JavaScript minification, and caching to improve load times.
Fast themes are optimized for mobile devices, ensuring that your website loads quickly and looks great on smartphones and tablets.
5 Fastest WooCommerce Themes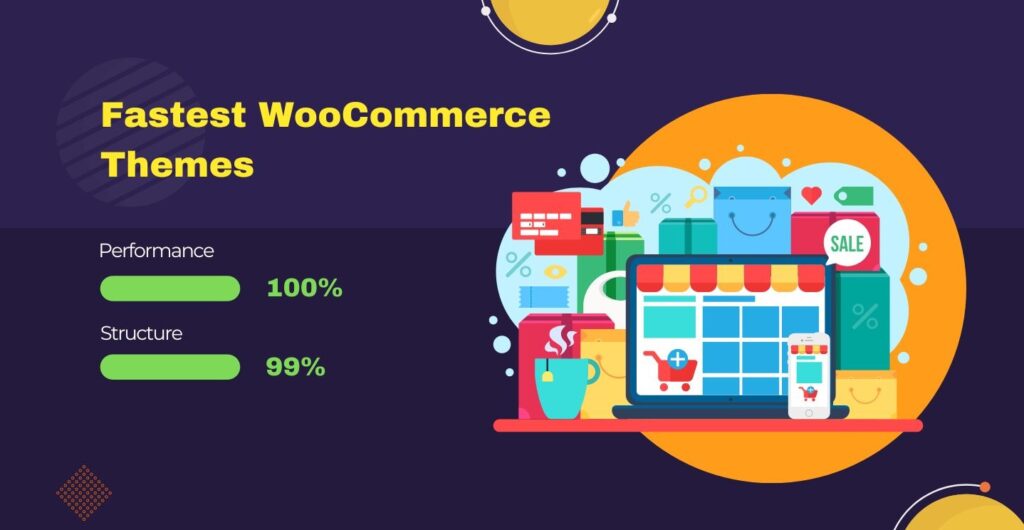 For WooCommerce users, choosing the right theme plays a vital role in optimizing their online store's performance.
In this list below, we will explore the fastest WooCommerce themes available on the market that can significantly enhance your website's speed and provide a seamless shopping experience for your customers.
1. Shoppe
With 8 pre-built demos, Shoppe offers quality skins for any shop owner.
Apparel
Black
Elegant
Music
Sport
Men
Craft
Fashion
All you need to do is install the free WooCommerce plugin and the Shoppe theme. Once you've got that set up, just click on the demo import option.
Within a minute, you'll witness the magic unfold as your online shop transforms into an exact replica of the chosen demo site!
The theme uses the Themify page builder, which works way faster than Elementor or WP Bakery Page builder.
You can choose from 3 pricing options for the Shopee theme:
Standard – $59 – Shopee them + 12 addons
Developer – $69 – Same as Standard + open Photoshop files
Master club – $89 – All 42 Themify themes + 25 Builder addons + 11 plugins
2. Divi for online stores (+ Divi's Visual Builder)
Divi goes the extra mile to boost your conversions with unique features like A/B Testing and condition options, built-in social media integration and seamless support for numerous email marketing services.
Demo Stores
Divi comes with 27 Layout Packs, with pre-made templates for:
Fashion
Cosmetics
Juice
Photography
Boutique
Tea Shop
Jewellery
E-book
Furniture
Pet store
Beauty
Leather goods
Toy store
Home decor
and more.
Divi Pricing
We should start with the big disclaimer that Divi is not sold as a separate theme but within a yearly or lifetime subscription for Elegant Themes.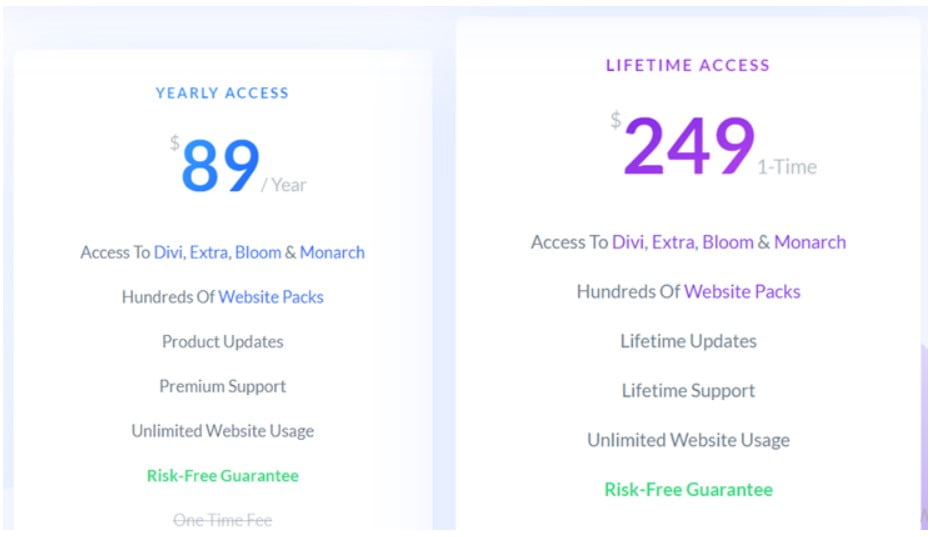 Immerse yourself in a universe of design brilliance with complete access to all themes, including Divi and Extra, as well as premium plugins like Bloom and Monarch. Enjoy the peace of mind that comes with receiving theme updates, premium support, and unrestricted usage across multiple websites.
---
Will using a fast WooCommerce theme improve my conversion rates?
Absolutely! Studies show that faster websites lead to higher conversion rates and lower bounce rates, resulting in better overall performance for your online store.
Can I switch to a different WooCommerce theme later on?
Yes, you can switch themes at any time. However, before switching, make sure to back up your website to avoid any data loss or compatibility issues.
Disclosure: Some of the links on the page may contain a ref code (affiliate links), that tells the other side that we have sent you. If you liked what we suggest and you make a purchase, we may receive a commission.