What is RankMath SEO?
Rank Math FREE SEO plugin from MyThemeShop, which promises to be а main competitor in the fight of the WordPress SEO plugins, a fight dominated by Yoast for years.
After 3 successful years, RankMath is an SEO game-changer today. With 2+ million active installs and constant updates and improvements, RankMath became a leader in SEO plugins and the preferred choice of new, non-experienced SEO enthusiasts.

For a limited time, you can get RankMath PRO at a special price!

SEE THE PRO FEATURES HERE!
One thing is for sure, the guys from MyThemeShop have put their hearts and souls into this project, and from what we've seen so far, it's notable that this plugin is powerful!
What I really like about RankMath is that it combines 5 plugins (if not more), while being lightweight and fast. With Rank Math, you can get rid of these plugins: Redirects plugin, Schema markup plugin, Role Manager plugin, Local SEO plugin, and XML Sitemaps.
What's new in the RankMath vs Yoast Competition in 2022?
It's been a while since I first wrote this article back in 2018.
I mean 4 years are a lot and feels like even more in the SEO world.
The growth of Rank Math
First thing first, back in 2018 only 30K blogs were using the free Rank Match plugin.
Today it has more than 1.5 Million users, and it grew into a go-to plugin for WordPress SEO.
And Yoast is still the number one plugin based on the number of installs, other than that it hasn't changed dramatically in the past 4 years.
The biggest new improvement – Content AI
We are now heading (or are we there already) to the AI era. Auto-generated content, the article rewriter plugins, the AI is getting better and better, and the text is starting to look more natural than ever.
The Rank Math Content AI is a tool that helps you improve your writing and your overall on-page SEO, based on AI-generated ideas.
It will suggest you new keywords, check the keyword density of your keywords, and give you external info sources and questions you can add to your paragraphs.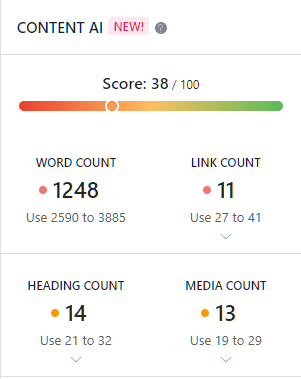 The module is based on credits, so the premium plans give you more compared to the free license.
Note that this Content AI won't write for you, it will only suggest you ways to improve your text SEO score.
The tool works very similarly to SurferSEO.
My Personal Results with Rank Math SEO Plugin (Updated)
I switched to Rank Math on one of my blogs in August 2018. Since then I haven't put any special work in terms of SEO, neither post any new content. All I did was applying the suggestions below every post that Rank Math gives.
The reasons for the increase in organic traffic, of course, might be due to lots of factors, but here is the graph of the clicks from Google Search Console for the past 12 months.

There is a nearly 50% increase in organic traffic based on that period.
From my experience Rank Math gives the best results, when being used with
MyThemeShop theme
(affiliate link). After all, they are built by the same developers.
RankMath Speed
Rank math is lighter compared to Yoast SEO. It has a reduced number of HTTP Requests thus resulting in faster page load times and a decrease in page size.
This site is using the Siteground Startup Plan.
Rank Math Support
This has been mentioned many times, by lots of users – the number of features you get for Free is insane.
Another great feature of RankMath is the support you'll get.
There is a private Facebook group where you can post about any issues you are having with your SEO and the admins and members will be more than willing to help you.
Rank Math Setup
The plugin has a setup wizard and a 1 Click Import From Yoast SEO, which will keep your existing SEO settings and you won't lose anything along the way.
The setup is very detailed, but users can also choose the recommended settings option and skip a lot of the manual work.
The in-post user interface looks similar to the one in Yoast but with a more polished and modern look.
Yoast SEO or Rank Math?
Let's start with a clear note that both these plugins are in a different league when it comes to WordPress SEO.
Whenever you choose you will get good results if you have general SEO knowledge when it comes to optimizing and writing content
But…
We can immediately notice the difference in the post SEO scores.
Rank Math is much more detailed when it comes to the SEO score, giving an accurate score from 0 to 100.
With Yoast, you get only three indicators – Poor, OK, and Good.
The same goes for the below-the-post meta box.
Compared to the Yoast view:
Again Rank Math has gone the extra mile and really got into detail.
In the advanced settings tab, we can see extra options for robots meta tags, that are not available in Yoast.
Another useful feature that we can find in RankMath that is absent in Yoast SEO is the built-in Redirect module.
Yoast is out there for years and it's true that it does amazing work. It was a revolution to WordPress SEO in and it will continue to be.
But it is also true that Yoast hasn't changed much for years. There were some cosmetic changes and a few new features and that's all.
I was expecting something to change with every major update…but again and again, I was seeing the same old interface and features.
I think the creators of Rank Math used this flaw very well and created something that combines the useful features of Yoast with new-age plugin UI.
The site-wide analysis in another detailed report, where Rank Math will show you a list of SEO factors with а corresponding status and tips on how to improve the missing areas.
Yoast vs. RankMath Price
We already mentioned that the plugins are FREE, however, they both offer more possibilities with a premium plan.
Yoast SEO Premium plugin
$89/ year
Rank Math PRO
$59/ year
Special launch price
Some of the premium features you get with Rank Math PRO are:
Schema Generator
Keywords rank tracker
Unlimited use on your websites
Automated Image SEO
SEO Performance Email Reports
You can check the full list here.
Rank Math and FAQ Schema in SERP
FAQ Schema was something that can get you more clicks from searches because it takes a lot of space on the SERP.
Yoast was first to introduce this as a free feature of their plugin, but from version 1.0.39 Rank Math got updated and now it has the FAQ Schema integrated as a custom block.
You can read more about FAQ Schema here.
The Bottom Line
Rank Math is making technical SEO more user-friendly and easy to apply for every WordPress user.
When I first get the email from MyThemeShop describing there is a new revolutionary SEO plugin coming soon, I instantly knew I'll make the switch. The time will tell if this was a smart move or the good old Yoast remains the best option when it comes to WordPress SEO plugins.
Rank Math FAQ
Disclosure: Some of the links on the page may contain a ref code (affiliate links), that tells the other side that we have sent you. If you liked what we suggest and you make a purchase, we may receive a commission.