Last Updated on September 9, 2020
Apart from the heavy work on building and launching your website, the daily use of WordPress involves all kinds of small tasks that every one of us is facing each day, or at least very often.
In this long post, we are going to add every single one of these common questions and issues and try to give the most simple working solution.
1. Delete Post Revisions
Why is a good idea to Delete old post's revisions?
Whit time revisions can grow to a significant number and grow on your database.
By deleting old revisions you will reduce your database size and speed up your website.
Another option is to bulk delete all revisions, if that's what you want you can install the WP-Optimize plugin.
But in this answer, I'll show you how to easily delete only specific post's revisions, because you may want to keep some for later.
Here's How
Simple Revisions Delete adds a small "Purge" action next to the Revisions number in each post or page.
Simply click the link and it's all done. Voila!
The plugin also has a bulk delete option if you want to get rid of all your post's revisions.
2. Change the Default Admin Login URL
There are several reasons you'd want to change the default login URL of your WordPress site.
By default all WordPress sites come with login URL: yourdomain.com/wp-admin.
If you keep it that way there is a chance to let hackers guess your credentials, get brute force attacks, and even if they fail to enter this will still cause server resources and even turn down your site for some time.
Here's How
Install iThemes Security Plugin and go to the Settings menu.

Find the "Hide Backend" block and go to Configure Settings. Just type your desired login address and save. That's it. And don't forget what you have typed.
iThemes Security Plugin is a complete security solution for WordPress that will not only change your admin login URL but will provide an overall security for your site.
3. Add a Sticky (Fixed) Widget to the Sidebar
Sticky widget means a widget that gets scrolled down with the page.
If your posts are long you will find that your widget area is being empty as the reader scroll past your first few paragraphs.
Sticky widgets can increase your ads CTR and boost conversions.
Here's How
Download the Q2W3 Fixed Widget, install and activate it.
Go to your site's widgets panel, select any widget and you will see a new check box – "Fixed widget".
Simply tick the check mark for the widget you want to stick. Easy as that.
Adding banner ads to your website is one of the common ways to monetize a blog.
The Sidebar is a classic spot for those banners. If you're using an ad network like Google Adsense, you will get a generated code to insert to your page.
Simply go to Appearance > Widgets, find your main sidebar (the one that displays on your posts pages).
On the left-hand side, you will see all the available widgets your WordPress has.
Click on the "Text" widget, choose your sidebar location and click 'Add widget'. You can also drag-n-drop the widget to your sidedar slot.
After that it will automatically open a text editor, where you will put your ad code.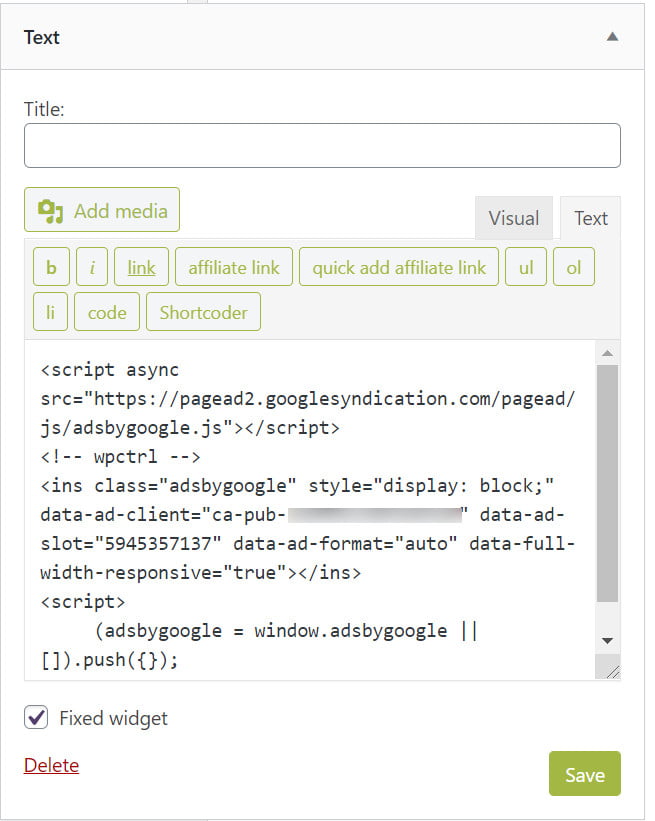 Note!
Place your code in the 'Text' tab! If you paste in in the visual one, there is a big chance that you won't get it to display on your front end.
Quick and simple tutorials on common WordPress issues that users face everyday.
New fix every month.