Arcade Games websites are the flashy sites, on which we all spent a few hours of our day when we were kids.
These games were so popular back in the day and people of all ages were killing time playing some dumb, yet addictive game.
Today gaming is way more advanced, graphics are amazingly real, games are played online with others, computers are powerful, and it's a whole new world.
However, flash (or HTML5) arcade games are still being made and they surely have an audience out there.
My first ever website was a flash games website, more than 15 years ago. Back in the day, there were few popular arcade site scripts and WordPress was just a blogging platform.
Now there are plugins that allow bulk game import so you can have your own flash games portal in a few hours. Combined with the cool gaming themes, this becomes a fun and hassle-free way to build your own flash website with thousands of pages with engaging content within WordPress.
Let's jump into the actual plugins…
MyArcadePlugin is providing everything you need to launch your own Arcade WordPress website and start generating traffic and earnings.

70,000+ Free Games
The newest games from the top distributors on the market.

Social Features
Build a community – user profiles with high score saving and leaderboards.

Optimized for Ads
Powerful ads system. Plenty of ads spaces + ads on game loading.
MyArcadePlugin is by far the most popular WordPress arcade plugin. It's compatible with all Exells themes (the biggest arcade theme marketplace) and it has tons of features for just $29 for the starter pack.
You don't need to buy a separate theme in order to build your arcade games website. MyArcadePlugin comes with a bonus of 11 ready-made WordPress themes!
With MyArcadePlugin you can have a fully automated website, as the plugin can fetch games and publish them.
Price
There are 3 different pricing options:
Ultimate (most popular) – 79 €
Carefree – 109 €
Managed Arcade (Hosted) – 299 € (Billed yearly)
You can head to myarcadeplugin.com to see and compare the plans for yourself.
There are lots of Bonuses with any of the plans above. You can get more info here.
Main Features
Automated downloading and publishing of games
Facebook connect & comments
Bulk Game Publishing from up to 16 game distributors
Save games and scores (Pro feature only)
Useful arcade widgets
Automated Translations (Pro feature only)
Best WordPress MyArcadePlugin Themes Providers:
These are the most popular theme marketplaces to find premium myarcadeplugin compatible themes.
CTL Arcade – WordPress Plugin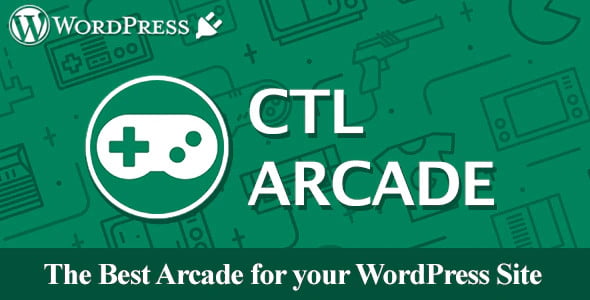 CTL Arcade is the only plugin available on ThemeForest. The plugin offers in-game ads and at the end of each level.
The downside is that it comes with only one game and if you want to add more you will have to purchase them separately ($29-$59 each).
The plugin also works only with games from the same author – codethislab.
Driving Traffic to Your New WordPress Arcade Website
Now you have the site up and running, games are there, pages are looking neat, registration is working and you're waiting for the players to arrive…
But you are still the only player out there.
This is a standard issue not only with arcade game websites but with every new website.
But with arcade website, the scenario is a little different.
You don't have much unique content to rank in the searches with. Yes, you can write an article or two with on-point content, but it will still take a long time to see any results.
This is a very competitive niche and SEO is not your best friend in terms of traffic sources.
Here's what you can try to do instead.
Step on Your Social Media Game
Learn some social marketing. In terms of technical tools try adding a Facebook comment box and a social locker plugin (locks out content unless someone likes, tweets, or shares the game) – Check out this Free Plugin.
Spend a few bucks on impression ads on related flash gaming sites.
Contact other webmasters with flash games websites, offer link or banner exchange.
If you have a good voice and some talent (and you're not shy in front of an audience lol) you can create video reviews and post them on YouTube with links to the game page on your site.
Other good channels are push notifications for new games (GetSiteControl, PushNami, FoxPush). You can also build a newsletter and send valuable content to your users (e.g. New games, contests, leaderboards).
Create your own Flash Games
This is a little next level, but if you are willing to put the effort into creating a game – go for it. Another option is to find a cheap coder, experienced in this field.
Even if it's simple and stupid at first sight, you never know what could happen. (reference Flappy Bird success).
Once you have the game, you can brand it with links pointing back to your site and offer it for free to other arcade game websites.
Here's a good video on the topic:
Once you start getting some consistent traffic you can start thinking about monetizing it.
How to Monetize Your traffic?
MyArcadePlugin comes ads optimized. Rocking your Adsense ads will always be an option.
But better than that, you can register for some more niche related networks:
With GameDistribution you are also getting new games for your site, which is a win-win.
Final Thoughts
Arcade Games are a competitive niche, but you can still make it if you are willing to but the hustle and time to build your website. Find a good domain name, and have a little idea of what will make your site different from the rest (micro niche).
If you have an arcade website or planning to launch one, comment below. I'd love to see what your idea is and help you with it.
Featured image created by Rick Calzi
Disclosure: Some of the links on the page may contain a ref code (affiliate links), that tells the other side that we have sent you. If you liked what we suggest and you make a purchase, we may receive a commission.