WPBakery Page Builder is the most popular WordPress page builder of all time, with more than 300K sales and 2 Million+ websites running on it!
It features a very easy and intuitive drag and drop interface that makes creating high quality looking pages possible even for absolute beginners.
Today most of the new themes on the market are coming with WPBakery Page Builder pre-packed, and while it's an amazing plugin itself will need an add-on plugin to benefit from the full potential of the page builder.
If you don't know what WPBakery Page Builder is, check it out here.
What is a WPBakery Page Builder Addons Plugin?
WPBakery Page Builder add-ons are plugins that will give you some extended functionality to the basic elements that the plugin originally comes with.
Note that there are lots of add-ons for WPBakery Page Builder, for almost anything. However, in this post, I'll go through the "all-around", the ones that are most featured rich and well made.
First, let's see what WPBakery Page Builder is offering right off the bat.
Well… it doesn't come with that much. You can add some basic elements, with fewer styling options (buttons, accordions, tabs, images, grids, some maps, and charts). Nothing fancy and nothing breathtaking. Definitely not enough to build a modern-looking website.
That's where add-ons come to play. They add elements to WPBakery Page Builder making the process of building a page easy and hassle-free, without users having any coding skills.
In this list, you will find the best and most elements-rich WPBakery Page Builder addons offered right now.
1. Massive Addons for WPBakery Page Builder
Massive addons were discontinued from the marketplace as of 5th of October 2021.
Massive Addons gives you 70+ shortcodes and addons with infinite customization possibilities.
The Add-On has a user-friendly, step-by-step setup wizard where you choose which components to install.
Massive Addons works with presets (ready-made styles of any shortcode), which you can add with a simple click and edit afterward if needed. This is very useful for beginners or anyone not familiar with modern design trends. The creators of the plugin – MPC have also put online some useful video tutorials to help you get started.
Speaking of simplicity the plugins have an "easy mode" which strips a lot of the settings and leaves only the most important. If you want to get detailed in your styling preferences, the "easy mode" can be turned off by simply unchecking the box in the upper corner of the window.
You can also directly install the pages you will see in the demo, with one click, from the plugins dashboard menu. The plugin supports WooCommerce and it comes with some sleek shortcodes for your e-store.
[alert-note]
Bonus:
Massive Addons comes bundled with its own fully functional and ready to use WordPress theme![/alert-note]
I was amazed from the very first time I saw the plugin elements in the demo. The quality of the design, combined with the easy-to-use back-end interface makes Massive Addons the best choice when it comes to WPBakery add-ons.
Make sure to check the demos and see it yourself!
2. Ultimate Addons for WPBakery Page Builder
[button-green url="//wpctrl.com/click/ultimate-addons/" target="_blank" position=""]View Demo[/button-green]
With more than 40 000 sales to date, this plugin is by far the most popular and there is a reason for this.
The add-on has covered all the necessary elements to build a fully functional and good-looking page. This is the first plugin to offer such great features for VC users, as it was published on the market in 2014.
One major con I noticed about this add-on is that it's not being updated with any new styles in the past year and a half, but it's still a great weapon when it comes to building a page.
Ultimate VC Addons is arguably the best option for creating interactive custom backgrounds. It gives you a full range of options: YouTube or Hosted video, Gradient, All kinds of Parallax efOverlayserlleys, Separators, and more.
I find this plugin to be lighter and faster in comparison with Massive Addons, but on the other side, achieving a satisfying outcome takes some more practice and time.
Check the Demo and see the possibilities that this amazing plugin has to offer!
3. ThePlus Addons for WPBakery Page Builder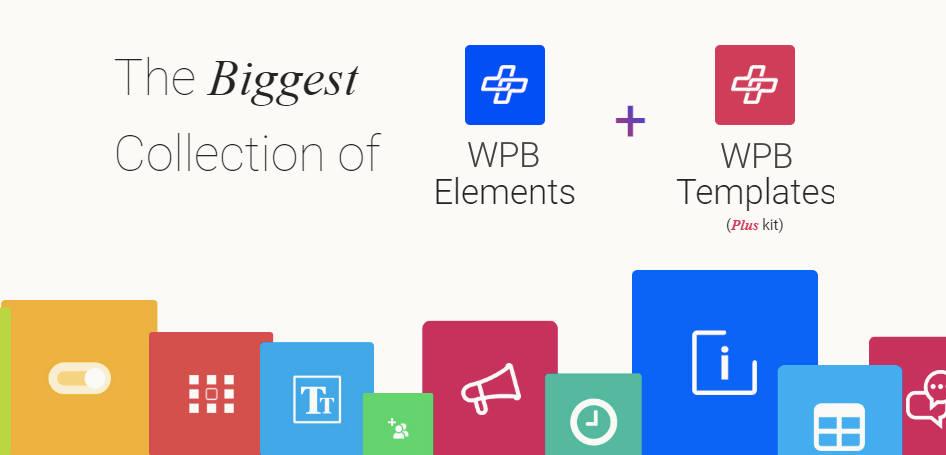 [button-green url="//wpctrl.com/click/theplus-addons/" target="_blank" position=""]View Demo[/button-green]
Fresh right off the oven. This WPBakery Page Builder addon has some very tasty visual elements for your page designs.
The creators have put together 50+ unique design elements with near-endless customization possibilities. And if you don't like to get creative and prefer to use professional prebuilt UI blocks, there are more than 500 of these to choose from. Every single element you'll ever need, from the header hero section to footer block.
Another cool feature of the ThePlus Addons is the Grid Builder. It gives you a ton of grid layouts to chose from, for your Blog posts, Portfolios, and Products (if you run an e-store). The grid builder comes with various sorting filters.
From what I've seen so far this plugin is one of the best known WPBakery Page Builder addons, and that is being backed up by the 5-star user rating it already has.
[button-blue url="//wpctrl.com/click/theplus-addons/" target="_blank" position="center"]View all Elements[/button-blue]
4. Unlimited Addons for WPBakery Page Builder
[button-green url="//wpctrl.com/click/unlimited-addons/" target="_blank" position=""]View Demo[/button-green]
Unlimited Addons is quickly gaining positive reviews for its quality and visual appearance!
The plugin offers 20+ Pre-made layouts that you can change the way you want. This is always a good approach if you are new to the plugin. You will see the good examples and will be able to copy them and add some personal flavor later on.
The addon is structured in different bundles, which combine the elements for your specific needs. Unlimited Addons stands out with its Sliders and Headers. You can create awesome slides without the need for any special slider plugin or use one on the pre-made headers to get the top, and most important part of your page, right!
Other than that the plugin provides all the necessary shortcodes for you to build a professional-looking page, some of these include:
Content boxes & Banners
Pricing Tables
Quotes & Testimonials
Accordions & Tabs
Buttons & Social icons
Audio Player (Very Creative and good looking)
Counters & Charts
WooCommerce Product Boxes
And more..
Overall Unlimited Addons is a great full-featured plugin that will gain even more popularity in the future.
5. VCKit – WPBakery Page Builder Addons Collection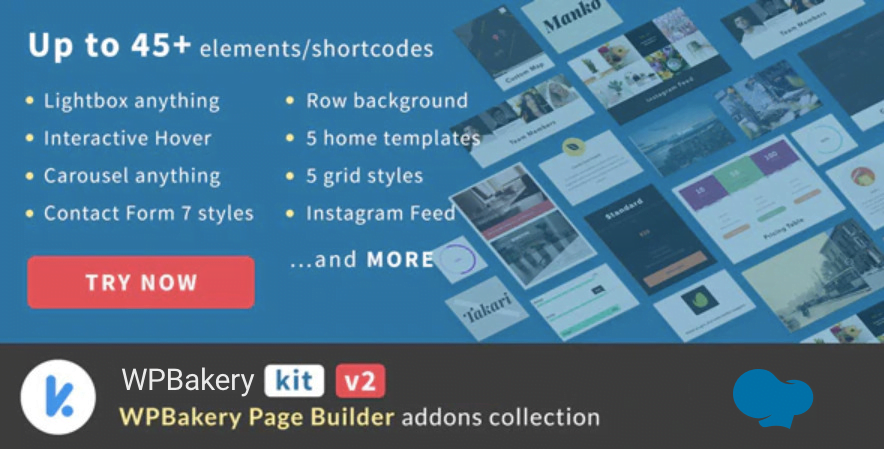 VCKit comes with more than 45 elements for WPBakery Page Builder. It has some creative and unique shortcodes with a nice modern style.
See the demo of all the elements here.
6. Modern WPBakery Page Builder Addons
50+ useful addons for WPBakery by Kaswara. This pack features some unique elements like the layered images and is more standard once seen in most of the addons. However, Modern WPBakery Page Builder Addons really lives to its name, as the elements look slick and clean.
Bottom Line
Ok, but now which is one to choose? All of these WPBakery Page Builder addons are a great choice with a 5-star user rating. The shortcodes are generally the same in all four (with little differences). All of the above plugins will serve you well and you will expand your pages to a whole new level of creativity and user experience.
Disclosure: Some of the links on the page may contain a ref code (affiliate links), that tells the other side that we have sent you. If you liked what we suggest and you make a purchase, we may receive a commission.